AN ANALYSIS OF STUDENTS' DIFFICULTIES IN WRITING DESCRIPTIVE TEXT
Keywords:
Students' difficulties, descriptive text
Abstract
This research aims to describe the students' difficulties in writing descriptive text and to find out the causes of students' difficulties in writing descriptive text. This research uses quantitative descriptive methods. The research subjects are X MIPA 6 students of SMAN 1 Sukodadi who had difficulties when writing descriptive text, the data of this research are the result of students' worksheet and the students' answer in interview. This research used documentation and interview to collect the data. Data reduction, data display and drawing conclusion was used to analyze the data. The result of this research shows that the students of X MIPA 6 have difficulty in writing descriptive text, the difficulties are difficulties in generic structure, difficulties in grammar, and difficulties in spelling. While the factors that cause the students' difficulties in writing descriptive text are lack of proficiency in the text production skills, lack of knowledge relating to the subject contents of the script to be written, and lack of interest in learning English.
Downloads
Download data is not yet available.
References
Farooq, M. S., Uzair-Ul-Hassan, M., & Wahid, S. S. (2012). Opinion of Second Language Learners about Writing Difficulties in English Language. A Research Journal of South Asian Studies , 27 (1): 183-194.
Glynn, T., Mere, J. W., & Berryman. (2006). Supporting Students with Literacy Difï¬culties . New York: Open University Press.
Goodwyn, A., & Branson, J. (2005). Teaching English. New York: Routledge Falmer.
Harmer, J. (2004). How to Teach Writing. Essex: Pearson Education Limited.
Husna, L., Zainil, & Rozimela, Y. (2013). An Analysis of Students' Writing Skill in Descriptive Text at Grade X1 Ipa 1 of MAN 2 Padang. Journal English Language Teaching (ELT), 1 (2): 1-16.
Mardiyah, D., Saun, S., & Refnaldi. (2013). The Second Grade Students' Ability in Writing a Descriptive Text at SMP N 1 Canduang. Journal of English Language Teaching, 1 (2): 281-290.
Nasser, S. M. (2019). Iraqi EFL Students' Difficulties in Writing Composition: An Experimental Study. International Journal of English Linguistics, 9 (1) : 178-184.
Nation, I. S. (2009). Teaching ESL/EFL Reading and Writing. New York: Routledge.
Novita, C. S. (2017). An Anlysis of Students' Ability and Diffulties in Writing Descriptive Tetx (A Study at SMA Negeri Bunga Bangsa, Nagan Raya). Banda Aceh: English Education Department Faculty of Tarbiyah and Teacher Training Ar-Raniry State Islamic University Darussalam .
Sugiono. (2016). Metode Penelitian Kuantitatif, Kualitatif, dan R&D. Bandung: Alfabeta.
Wearmouth, J., Soler, J., & Reid, G. (New York). Meeting Difficulties in Literacy Development. 2003: Routledge Falmer.
Wijayatiningsih, T. D., & Wardhani, M. Y. (2014). Genre-Based Analysis of Students' Descriptive Text in The Tenth Grade Students of MAN 2 Semarang. Journal of English and Education, 4 (1): 43-47.
Yenita, H., Tanjung, F., & Septy, A. P. (2014). Teaching Writing Descriptive Text By Using Collaborative Technique. Journal of Language and Teaching, 3 (5): 1-8.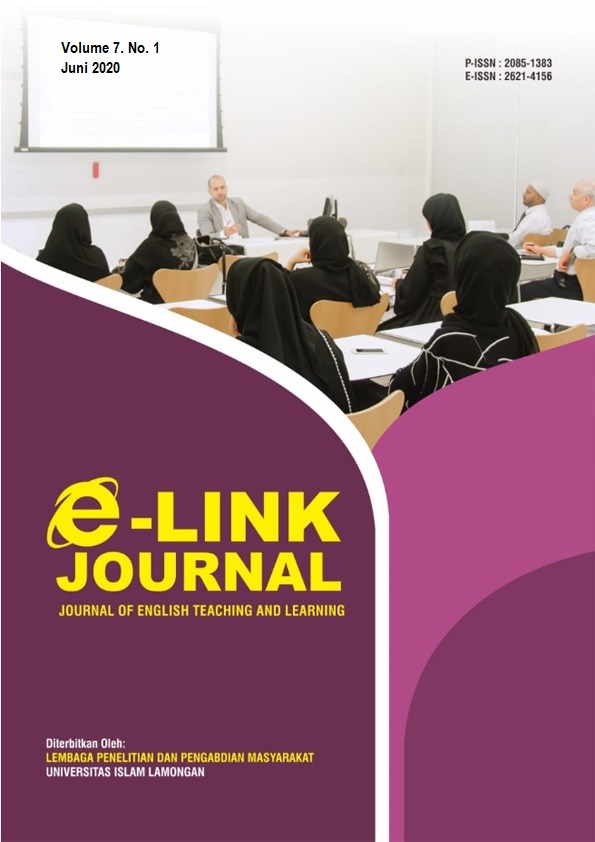 Downloads
How to Cite
Ismayanti, E., & Kholiq, A. (2020). AN ANALYSIS OF STUDENTS' DIFFICULTIES IN WRITING DESCRIPTIVE TEXT. E-LINK JOURNAL, 7(1), 10–20. https://doi.org/10.30736/ej.v7i1.260