AN ANALYSIS OF PLOT IN FILM THE THEORY OF EVERYTHING BY JAMES MARSH
Abstract
Plot is one of the important elements contained in narrative literary works. Plots in literary works, films, stories, or other narratives are sequences of several events, and each of these events influences subsequent events. Now, the film is considered as a powerful communication medium for the masses that are being targeted, because of its audio-visual nature, that is, vivid images and sounds. With pictures and sound, movies can tell a lot in a short time. This study  focuses on the analysis of how the plot is used in the film The Theory of Everything. Thus, the aim is to describe the plot in the film The Theory of Everything.This research used a descriptive qualitative method. First, the writer categorizes several fragments of a sentence, dialogue, and scene. Next, look for, analysis, and interpret it to obtain the plot structure in accordance with the theory. From the results of the analysis obtained the answer that the film is told in its entirety starting from exposition, rising action, climax, and falling action. And the film closes with a closed ending. So the film goes forward or progressive plot. The authors hope that the results of this study will benefit future researchers who are interested in the work of literature in the form of films, especially in the plot.
 
Keywords: Film, plot
 
Downloads
Download data is not yet available.
References
Abrams, M.H. 1999. A Glossary of Literature Terms Seventh Edition. Boston: Thomson Learning Inc.
Ary, Donald, Jacobs, L.C., & Sorensen, C. 2010. Introduction Eighth Edition. Belmont: Wadsworth.
Astrid, S. Susanto, Phil. 1982. Komunikasi Massa. Bandung: Binacipta
Bordwell, David & Thompson, Kristin. 2008. Film Art: An Introduction Eight Edition. New York: McGraw-Hill.
Eka, Sofyani Erlin. 2014. An Analysis of Point of View and Plot on Capote's in Cold Blood. Bandung: Universitas Pasundan.
Griffith, Kelley. 1982. Writing Essay about Literature. New York: Harcourt Brace Jovanovich, Inc.
Himawa, Prasista. 2008. Memahami Film. Yogyakarta: Homerian
Nurgiyantoro, Burhan. 2010. Teori Pengkajian Fiksi. Yogyakarta: Gadjah Mada University Press.
Oktami, Nadya. 2014. The Analysis of Plot of Murder Revelation in Sandra Brown's Novel "Low Pressureâ€. Bandar Lampung: Universitas Lampung.
Russell, D.L. 2009. Literature for Children: A Short Introduction (Chapter 3). Department of English, National Kaohsiung First University of Science and Technology, Taiwan. (//D:/Online Page/Study of Literature.html), retrieved on 19 March 2020
Satwase, Vaishali. 2011. Types of Literature. Buzzle. (File//D:/online Page/Types of Literature.html), retrieved on 15 May 2020
Staton, Robert. 2007. Teori Fiksi. Yogyakarta: Pustaka Pelajar
Sumardjono, Jacob dan Saini K.M. 1997. Apresiasi Kesusastraan. Jakarta: Gramedia
Yin,Robert K. 2011. Qualitative Research From Start to Finish. New York: The Guilford Press
Yuliana, Irma. 2016. Alur dalam Novel Hujan Bulan Juni Karya Sapardi Djoko Damono dan Rencana Pembelajaran di SMA. Makassar: Universitas Islam Negeri Makassar.
https://id.wikipedia.org/wiki/The_Theory_of_Everything_(film_2004), Retrieved on 26 March 2020 19:30 pm
https://www.raidence.org, Retrieved on 25 May 2020 15:45 pm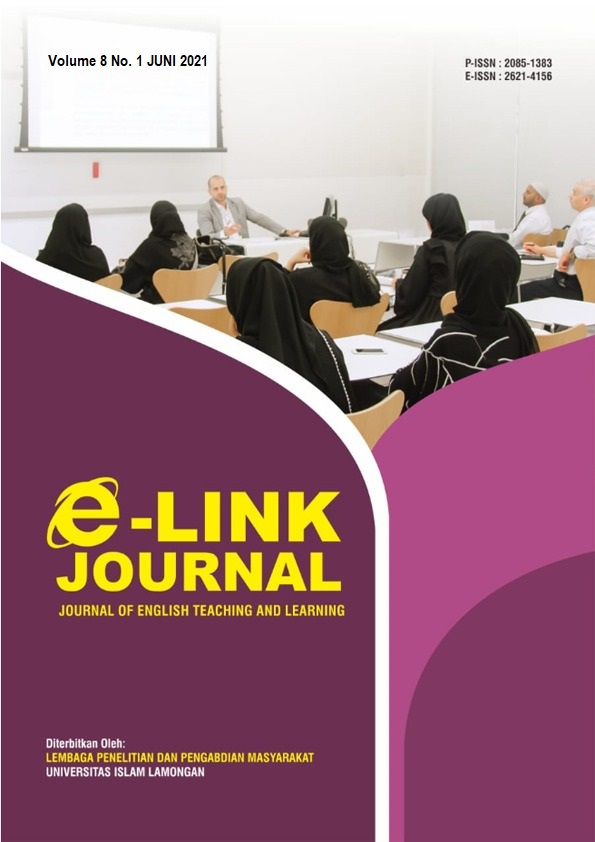 Downloads
How to Cite
Sholihah, F. (2021). AN ANALYSIS OF PLOT IN FILM THE THEORY OF EVERYTHING BY JAMES MARSH. E-LINK JOURNAL, 8(1), 58–76. https://doi.org/10.30736/ej.v8i1.425