CLASSROOM LANGUAGE FUNCTIONS USED BY EFL TEACHER DURING DISTANCE LEARNING IN JUNIOR HIGH SCHOOL
Keywords:
Classroom language, language function, distance learning.
Abstract
The purpose of this study is to describe the classroom language functions used by the EFL teacher in junior high school during distance learning. This study is classified as qualitative descriptive research. This research was conducted in SMP N 2 Sawan with only one subject, a grade 7 English teacher. The findings of this study showed that the EFL teacher preferred to implement 'seeking information' as the highest classroom language function delivered during distance learning, followed by 'explaining' by 21.88%, 'persuade' came in third place with 20.31%. In fourth place is 'ordering', with 17.19 percent. Next are 'evaluating' (1.95%), 'comparing' (1.56%), 'analyzing' (1.17%), 'proving/debating' (0.78%), justifying (0.78%), 'inferring' (0.39%), and 'synthesizing' (0.39%). Meanwhile, the teacher did not use two functions during teaching. They were 'classifying' (0%) and 'solving problems' (0%).
Downloads
Download data is not yet available.
References
Haradhan, M. (2018). Qualitative research methodology in social sciences and related subjects. Journal of Economic Development, Environment and People, 7(1), 23–48. https://mpra.ub.uni-muenchen.de/85654/1/MPRA_paper_85654.pdf
Jang Ho, L., & Yuen Yi, L. (2017). An exploratory study on the relationships between attitudes toward classroom language choice , motivation , and pro fi ciency of EFL learners. System, Volume 67, 121–131. https://doi.org/10.1016/j.system.2017.04.017
Kirana, G., & Areni, D. (2010). Optimizing the Use of Classroom Language to Improve the Speaking Confidence of Students at Beginner Level. Language Circle: Journal of Language and Literature, 5(1).
L. Allwright, R. (1984). The Importance of Interaction in Classroom Language Learning. Applied Linguistics, 5(2), 156–171.
Mufidah, S., Rukmini, D., & Abdurrahman, F. (2007). Academic language functions. Discourse in Content and Language Integrated Learning (CLIL) Classrooms., VII(October), 125–170.
Rashid, Y., Rashid, A., Warraich, M. A., Sabir, S. S., & Waseem, A. (2019). Case Study Method: A Step-by-Step Guide for Business Researchers. International Journal of Qualitative Methods, 18, 1–13. https://doi.org/10.1177/1609406919862424
Rosdiana. (2016). LANGUAGE ACQUISITION : CLASSROOM LANGUAGE. Journal of English Language Teaching Volume, 01(01), 63–68. https://doi.org/http://dx.doi.org/10.30998/scope.v1i01.1092
Sulisworo, D., Astuti, A. Y., & Fatimah, N. (2020). Online Learning Implementation during COVID-19 Mitigation in Indonesia : Measuring the Lecturers ' Technology Readiness. International Journal of Advanced Science and Technology, 29(7), 2252–2263.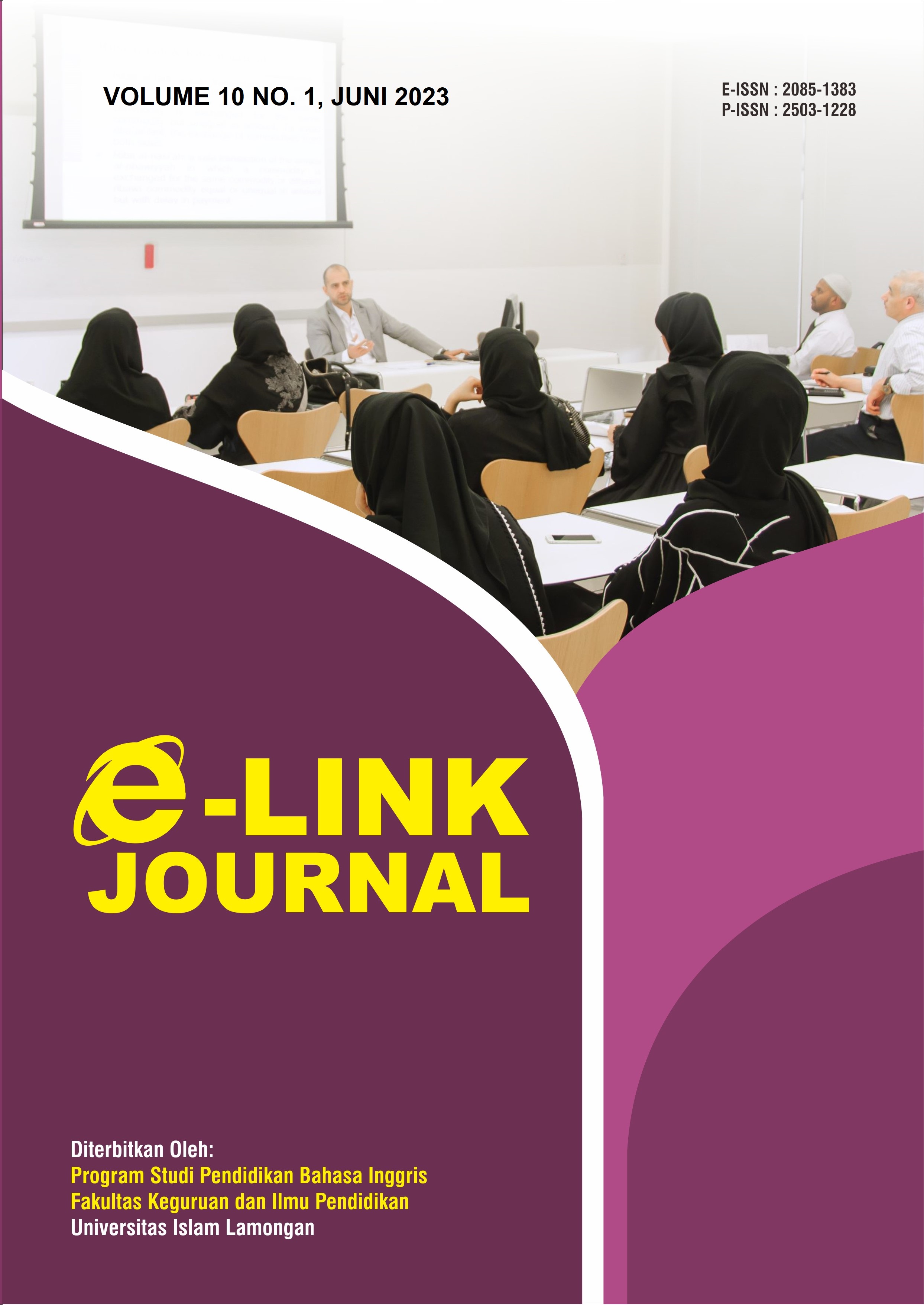 Downloads
How to Cite
Cahyani, N. N. B., Artini, L. P., & Wahyuni, L. G. E. (2023). CLASSROOM LANGUAGE FUNCTIONS USED BY EFL TEACHER DURING DISTANCE LEARNING IN JUNIOR HIGH SCHOOL. E-LINK JOURNAL, 10(1), 59–67. https://doi.org/10.30736/ej.v10i1.516