THE NEEDS ANALYSIS OF MULTILINGUAL THEMATIC DIGITAL DICTIONARY FOR LITERACY DEVELOPMENT
Keywords:
Digital dictionary, language learning, need analysis
Abstract
Students must be capable of technological advances that can make it easier to interact and compete in the world in the digital age. Therefore, students must have a strong foundation following the desired needs and achievements concerning English language skills. One of the supporting students' learning is a digital dictionary with multilingual. Thus, this study aims to develop a multilingual digital dictionary for fifth-grade elementary school students. However, this article describes the need for multilingual Digital dictionaries for fifth-grade elementary school students. This study involved 656 students and 27 English Teachers in grade five from Nine sub-districts in Buleleng Regency. This qualitative research aimed to analyze the results of needs for, In data capture. The study used observations, questionnaires, and interviews. This study shows that students are in dire need and want a multi-lingual digital dictionary to support their English learning. 
Downloads
Download data is not yet available.
References
Akrim, M. (2018). Media learning in a digital era. Advance in Social Science, Education and Humanities Research, 231(0), 458–460. https://doi.org/10.2991/amca-18.2018.127
Al-Takhyneh, B. (2018). Attitudes towards using mobile applications in teaching mathematics in open learning systems. International Journal of E-Learning & Distance Learning, 33(1), 1–16.
Ali, H. I. H. (2012). Monolingual dictionary use in an EFL context. English Language Teaching, 5(7), 2–7. https://doi.org/10.5539/elt.v5n7p2
Amirian, S. M. R., & Heshmatifar, Z. (2013). A survey on vocabulary learning strategies: A case of Iranian EFL university students. Journal of Language Teaching and Research, 4(3), 636–641. https://doi.org/10.4304/jltr.4.3.636-641
Buendía-Castro, M. (2020). Bilingual and multilingual online environmental knowledge resources: A comparative study for translation purposes. International Journal of Lexicography, 33(1), 40–72. https://doi.org/10.1093/ijl/ecz022
Dashtestani, R., & Hojatpanah, S. (2020). Digital literacy of EFL students in a junior high school in Iran: voices of teachers, students and ministry directors. Computer Assisted Language Learning, 0(0), 1–31. https://doi.org/10.1080/09588221.2020.1744664
Hutchinson, T., & Waters, A. (1987). English for specific purposes. Cambridge University Press.
Kazimi, A. B., & Saeed, A. (2012). Need an analysis of assessing training programs of university faculty. International Journal of Arts and Commerce, 1(7), 1–6.
Kowalski, P. (2020). Multilingual dictionary of keywords as a tool for the digital bibliographic database of world Slavic linguistics. Rasprave Instituta Za Hrvatski Jezik i Jezikoslovlje, 46(2), 783–795. https://doi.org/10.31724/RIHJJ.46.2.18
Lin, M. H., Chen, H. C., & Liu, K. S. (2017). A study of the effects of digital learning on learning motivation and learning outcome. Eurasia Journal of Mathematics, Science and Technology Education, 13(7), 3553–3564. https://doi.org/10.12973/eurasia.2017.00744a
Pichler, S., Kohli, C., & Granitz, N. (2021). DITTO for Gen Z: A framework for leveraging the uniqueness of the new generation. Business Horizons, 64(5), 599–610. https://doi.org/https://doi.org/https://doi.org/10.1016/j.bushor.2021.02.021
Rachmawati, U. (2020). What lies behind the students' need in English for specific purposes: A reflection of needs analysis. Journal of Languages and Language Teaching, 8(2), 213–221. https://doi.org/10.33394/jollt.v8i2.2537
Ratminingsih, N. M., Artini, L. P., Santosa, M. H., & Adnyani, L. D. S. (2021). Pembelajaran bahasa Inggris untuk anak abad 21: Pegangan guru professional (Rajawali Pers (ed.)). PT. Rajagrafindo Persada.
Rohmatillah, R. (2016). Dictionary usage in English language learning. English Education: Jurnal Tadris Bahasa Inggris, 9(1), 186–197.
Sari, E. S., & Setyawan, P. (2017). Budaya literasi di kalangan mahasiswa FBS UNY. Jurnal LITERA, 16(1), 105–113.
Silvana, H., & Darmawan, C. (2018). Pendidikan literasi digital di kalangan usia Muda di kota Bandung. Pedagogia, 16(2), 146–156. https://doi.org/10.17509/pdgia.v16i2.11327
Sudarwati, N., & Rukminingsih. (2018). Evaluating e-learning as a learning media a case of entrepreneurship e-learning using Schoology as media. International Journal of Emerging Technologies in Learning, 13(9), 269–279. https://doi.org/10.3991/ijet.v13i09.7783
Suniyasih, N. M., Ratminingsih, N. M., & Budasi, I. G. (2020). Development of multilingual thematic picture dictionary: A support for literacy. Jurnal Pendidikan Dan Pengajaran, 53(3), 1–10. https://doi.org/10.23887/jpp.v53i3.27508
Tulgar, A. T. (2017). Dictionary use of undergraduate students in foreign language departments in Turkey at present. Universal Journal of Educational Research, 5(12B), 51–57. https://doi.org/10.13189/ujer.2017.051406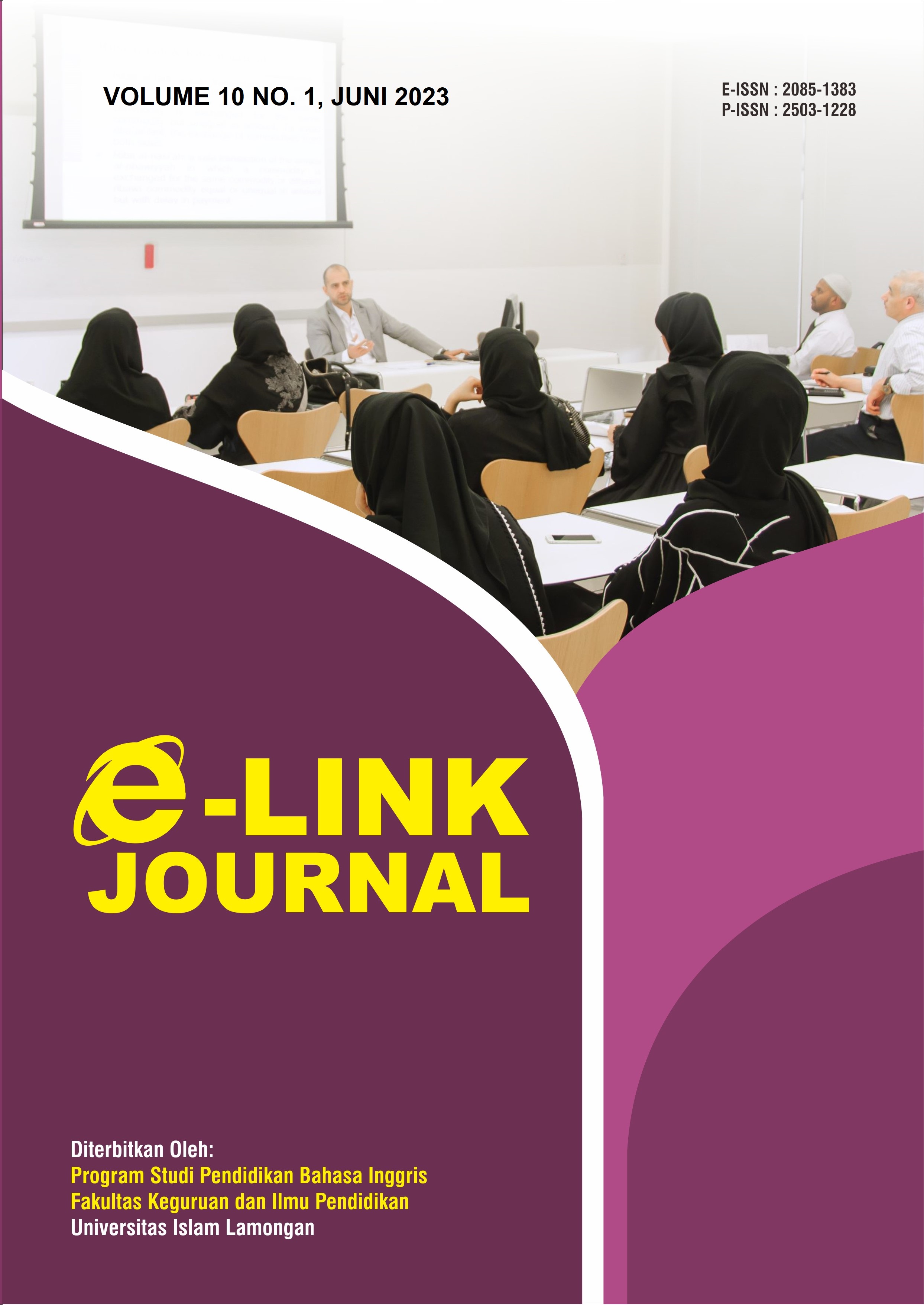 Downloads
How to Cite
Dewi, N. P. D. K., Ratminingsih, N. M., & Budasi, I. G. (2023). THE NEEDS ANALYSIS OF MULTILINGUAL THEMATIC DIGITAL DICTIONARY FOR LITERACY DEVELOPMENT. E-LINK JOURNAL, 10(1), 88–99. https://doi.org/10.30736/ej.v10i1.520