STRATEGY OF TEACHING SPEAKING BY USING GAMES FOR FRONTRUNNER CLASS AT EF (ENGLISH FIRST)
Keywords:
games for teaching speaking, handling students, teaching speaking
Abstract
Language is important in everyday life to convey various information and opinions to others. English is a key International language for communicating with other people. This research is very interesting because it explores the teaching strategy used by the teacher in an English course, namely EF English First. This research aims at explaining the teachers' strategy of teaching speaking by using games for Frontrunner class. This research uses a qualitative with case study approach where the researcher conducts an interview and observation. This study focuses on the tenth level of Frontrunner class which at the ten to twelve is Upper Intermediate level, so that included in the B2 level in the CEFR. The results of study show the students are happy and learning becomes interactive by using games in teaching speaking. Because they can add new vocabularies and can develop their ideas by doing speaking activities.
Downloads
Download data is not yet available.
References
Adhabi, E., & Anozie, C.B. 2017. Literature Review for the Type of Interview in Qualitative Research. International Journal of Education. Vol. 9 (3), 86-97 https://doi.org/10.5296/ije.v9i3.11483
Agnesia, W. D., & Astutik, Y. (2023). Improving Students' Speaking Skill by Using Guessing Games at Junior High School. Academia Open. Vol. 8 https://doi.org/10.21070/acopen.8.2023.4707
An, N. T. M., & Ho, P. V. P. (2018). Improving EFL Students' Speaking Performance by Using Games in The Classroom. Conference: Teaching and Learning English as Job Requirements in the Modern Age. International Journal Of Tesol Education. 121–127. https://www.researchgate.net/publication/327835311
Efendi, U. (2016). The Teaching of English Speaking Skill at "First Course": A Case Study at A Boarding Course. Magister Scientiae. No.40. 123-134. https://www.neliti.com/publications/232362/the-teaching-of-english speaking-skill-at-first-course-a-case-study-at-a-boardin
EF English Live. How our 16 levels will prepare you for essential English certification. Accessed on February 28th 2023, retrieved from https://englishlive.ef.com/en/how-it-works/levels-and-certificates/
Guterres, C., & Soares, F. (2017). The Use of Dice Game to Improve Students Ability in Simple Past Tense to The First Grade Students of Secondary School in Timor-Leste. ISCE Journal of Innovative Studies on Character and Education. Vol. 1 (1), 164-175. https://iscjournal.com/index.php/isce/article/view/11
Isnan, A. (2019). The Study on Teaching Listening for Speaking at Advanced Level Students through World Events at an English Language Course Pare Kediri. LangEdu Journal
Khan, R., et al., (2018). The Role of Vocabulary Knowledge in Speaking Development of Saudi EFL Learners. Arab World English Journal. Vol. 9 (1), 406–418. https://doi.org/10.24093/awej/vol9no1.28
Petrus, I., & Lingga Pitaloka, N. (2022). Speaking Performance and Problems Faced by English Major Students at A University In South Sumatera. South Sumatera. Indonesian EFL Journal. Vol. 8 (1), 105–112. https://doi.org/10.25134/ieflj.v8i1.5603
Pratiwi, D., Alya, Solihat, D., & Darsih, E. (2021). Strategies in Teaching Speaking During Covid-19 Pandemic. Indonesian Journal of Learning and Instruction. Vol. 4 (2), 31–38. https://doi.org/10.25134/ijli.v4i2.5201
Puspita, R.D. (2022). A Model of Speaking Lesson Plan Based Contextual for Primary School Teacher Education Students. JALL (Journal of Applied Linguistics and Literacy. Vol. 6. Retrieved from https://jurnal.unigal.ac.id/index.php/jall/index
Rao, P.S. (2019). The Importance of Speaking Skills in English Classrooms. Alford Council of International English & Literature Journal(ACIELJ). Vol.2 (2). 6-18. https://www.researchgate.net/publication/334283040_THE_IMPORTANCE_OF_SPEAKING_SKILLS_IN_ENGLISH_CLASSROOMS
Yilmaz, K. (2013). Comparison of Quantitative and Qualitative Research Traditions: epistemological, theoretical, and methodological differences. https://doi.org/10.1111/ejed.12014
References coming from Book:
Rugg. (2010). An Introduction to
Triangulation. UNAIDS.
References coming from Undergraduate/Graduate Thesis or Dissertation:
Aryani, R. (2018). The Influence of "What Am I†Game Towards Students'vocabulary Mastery at The Second Semester of Eighth Grade of SMPN 17 Bandar Lampung in The Academic Year 2018/2019. Undergraduate Thesis. University of Islamic State Raden Intan Lampung.
Raslinda, S.M. (2021). Coping Strategies of Face-To-Face Classroom. Management to Deal with Students' Misbehaviour: A Secondary Teacher' S Experience. Undergraduate Thesis. Yogyakarta. Universitas Islam Indonesia.
Saliha, T.A. (2017). Teachers's Strategies in Teaching Speaking at The Daffodils (Case Study Research at Kampoeng Inggris-Pare Academic Year 2017 on 10th-25th Period).
Undergraduate Thesis. Universitas Nusantara PGRI Kediri.
Ulfa, M. (2007). The Importance of Games for English Learning in Intermediate Class at EF English First Nusantara Jember. Undergraduate Thesis. Universitas Jember.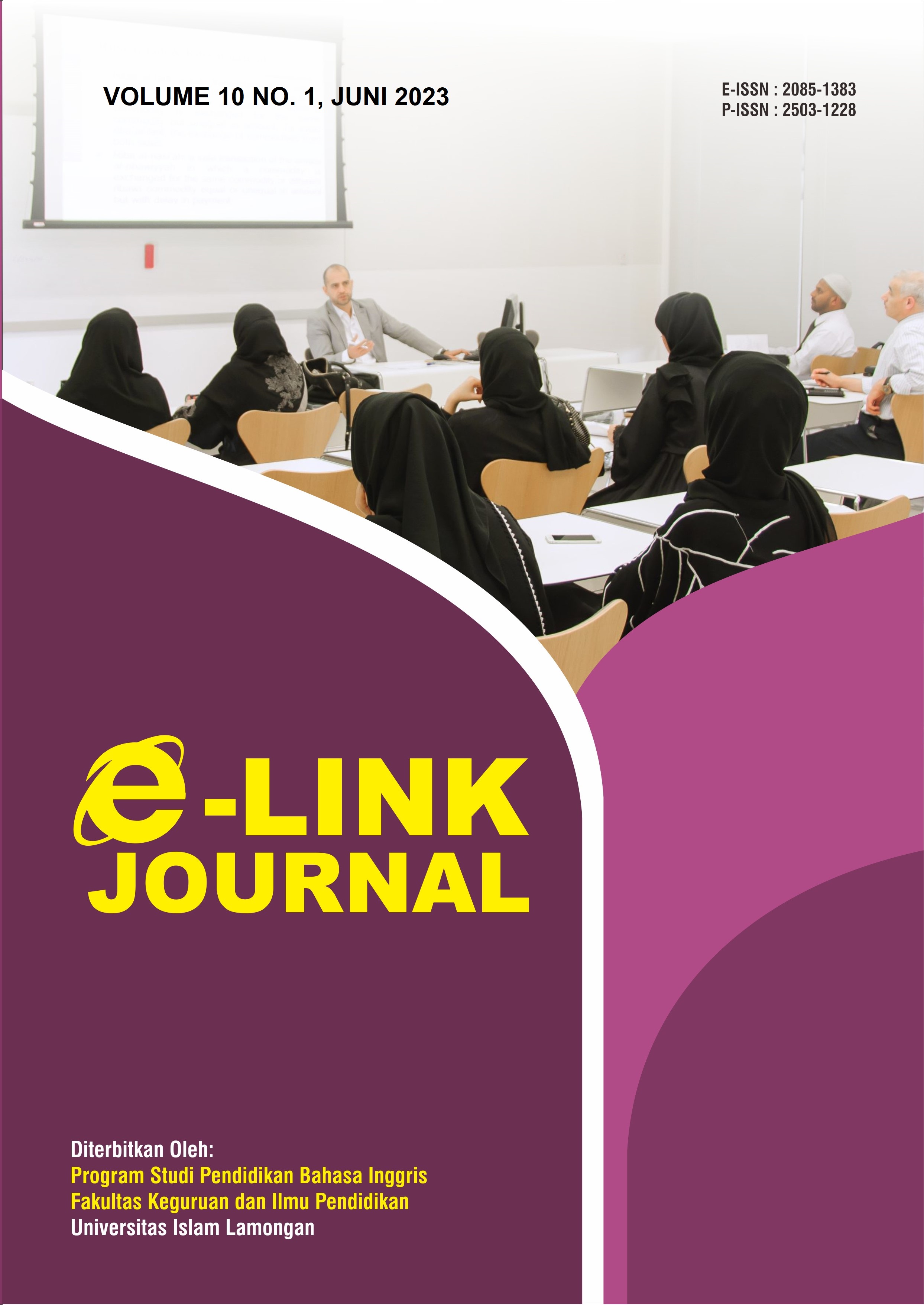 Downloads
How to Cite
Amelia, D., & Hidayat, R. (2023). STRATEGY OF TEACHING SPEAKING BY USING GAMES FOR FRONTRUNNER CLASS AT EF (ENGLISH FIRST). E-LINK JOURNAL, 10(1), 18–32. https://doi.org/10.30736/ej.v10i1.771