WH-QUESTIONS TECHNIQUE GUIDE FOR MASTERING AND IMPROVING THE STUDENTS' SPEAKING SKILL
Keywords:
W-H questions technique guide, speaking skill
Abstract
This research was conducted using a classroom action research design through two cycles. The purpose of the study is to know how Guided WH-Questions technique are able to increase the  speaking skill of the students at Junior High School. The research was conducted at SMP Al-Islamiyah Teja Barat Pamekasan. It is limited only at the first grade and the class consists of 19 students. The data was collected through observation sheet, field notes, the students' test and questionnaire. In data analysis, the researcher utilized descriptive quantitative. The data from the outcome of observation and the students' test are analyzed utilizing statistic analysis. The findings showed that the students' involvement in learning process indicated the success of the teaching and learning if in the cycle 1 of meeting 1 was 77% and meeting 2 was 85,7%. Then. In second cycle of meeting 1 the students' involvement improved to be 91, 4% and  meeting 2 was 97%. The refinement was seen from the advance of the students' average speaking points. In preliminary study, the students' speaking average score was 54, 8. It improved to be 71 in the cycle 1 and 82 in the cycle 2. While the students' outcome of the questionnaire showed the students were fascinated and enjoyed in studying speaking through Guided WH-Question.
Downloads
Download data is not yet available.
References
Aljumah, F. (2011). Developing Saudi EFL Students' Oral Skills: An Integrative Approach. English Language Teaching, 4(3), p84. https://doi.org/10.5539/elt.v4n3p84
Brown, G and Wragg, E. C. (1993). Questioning. Routledge.
Brown, H. Douglas. (2007). Principles of Language Learning and Teaching. Longman.
Brown, H.D. (2001). Teaching by Principles :An interactive approach to language pedagogy. San Francisco State University.
Cenderato. (2010). Teaching Hortatory Exposition Speaking Using Guide WH – Questions [Thesis]. FKIP Untan.
David P Harris. (1969). Testing English as A Second Language. Georgetown University.
Harmer, J. (2007). How to teach English. Longman.
Kemmis & Mc Taggart. (1988). The Action Research Planner. Deakin University.
Kemmis, S., & Taggart, R. Mc. (1992). The Action Research Planner. Deakin University.
Khaydarovna, N. M. (2022). THE ROLE OF WH- QUESTIONS IN TEACHING SPEAKING SKILLS AT SCHOOL. 2(1).
Muhammad Yunus. (2011). Improving Students' Speaking Skill Through Guided Questions With Inside-Outside Circle Technique at The First Grade of SMA Wahid Hasyim Malang [Tesis]. UNISMA.
Rao, P. S. (2018). DEVELOPING SPEAKING SKILLS IN ESL OR EFL SETTINGS. 5.
Richards J, Schmidt R. (2002). Longman Dictionary of Language Teaching and Applied Linguistics. Pearson Education LTD.
Scrivener, J. (2005). Learning Teaching.. MacMillan.
UR, Penny. (1991). A Course in Language Teaching. Cambridge University Press.
Willy A Renandya, J. C. R. (2002). Methodology in Language Teaching. Cambridge University Press.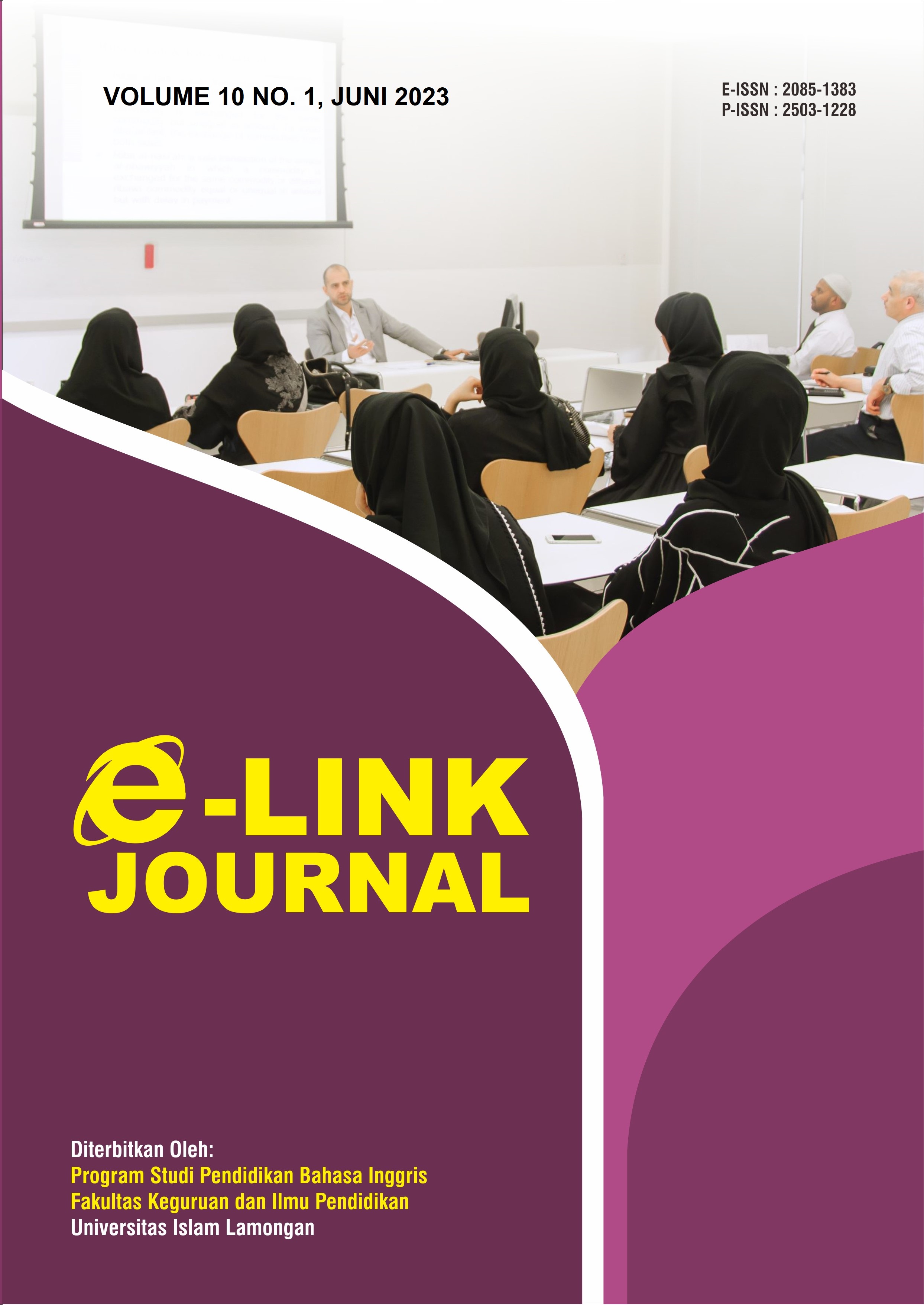 Downloads
Additional Files
How to Cite
Listyowati, R., Hanna, I. D., & Yunitaka B., D. V. (2023). WH-QUESTIONS TECHNIQUE GUIDE FOR MASTERING AND IMPROVING THE STUDENTS' SPEAKING SKILL. E-LINK JOURNAL, 10(1), 44–58. https://doi.org/10.30736/ej.v10i1.812