STUDENT'S PERCEPTIONS OF THE USE OF GOOGLE MEET DURING THE LIMITED FACE-TO-FACE LEARNING PERIOD
Keywords:
Google meet, limited face-to-face learning, student's perception.
Abstract
This research aims to describe student's perceptions of the use Google Meet during the limited face-to-face learning period at English Education Study Program University of Billfath. This research employed descriptive quantitative research techniques in the form of surveys. An online questionnaire created with Google Forms was used as the research instrument. The result of student's answer through the questionnaire given showed good category. There were 60% of students strongly agree with the statement that Google was easily accessible, 52% of students strongly agree with the use of Google Meet, they could still understand the material given during lectures, 44% of students strongly agree that the use of google meet during online learning was effective, and 40% of students were highly motivated to participate in learning by using google meet. Thus, it could be concluded that online learning using Google Meet during the limited face-to-face learning period was quite good and effective.
Downloads
Download data is not yet available.
References
Aguilera-Hermida, A. P. (2020). College students' use and acceptance of emergency online learning due to COVID-19. International Journal of Educational Research Open, 1, 100011.
Arikunto, S. (2010). Metode peneltian. Jakarta: Rineka Cipta.
Fuady, I., Sutarjo, M. A. S., & Ernawati, E. (2021). Analysis of students' perceptions of online learning media during the Covid-19 pandemic (Study of e-learning media: Zoom, Google Meet, Google Classroom, and LMS). Randwick International of Social Science Journal, 2(1), 51–56.
Purwanto, E., & Tannady, H. (2020). The factors affecting intention to use google meet amid online meeting platforms competition in Indonesia. Technology Reports of Kansai University, 62(06), 2829–2838.
Sugiyono, P. (2011). Metodologi penelitian kuantitatif kualitatif dan R&D. Alpabeta, Bandung.
Sutarto, S., Sari, D. P., & Fathurrochman, I. (2020). Teacher strategies in online learning to increase students' interest in learning during COVID-19 pandemic. Jurnal Konseling Dan Pendidikan, 8(3), 129–137.
Syaharuddin, S. (2020). Menimbang Peran Teknologi dan Guru dalam Pembelajaran di Era COVID-19. Menimbang Peran Teknologi Dan Guru Dalam Pembelajaran Di Era COVID-19.
Wang, C.-H., Shannon, D. M., & Ross, M. E. (2013). Students' characteristics, self-regulated learning, technology self-efficacy, and course outcomes in online learning. Distance Education, 34(3), 302–323.
Yuhanna, I., Alexander, A., & Kachik, A. (2020). Advantages and disadvantages of Online Learning. Journal Educational Verkenning, 1(2), 13–19.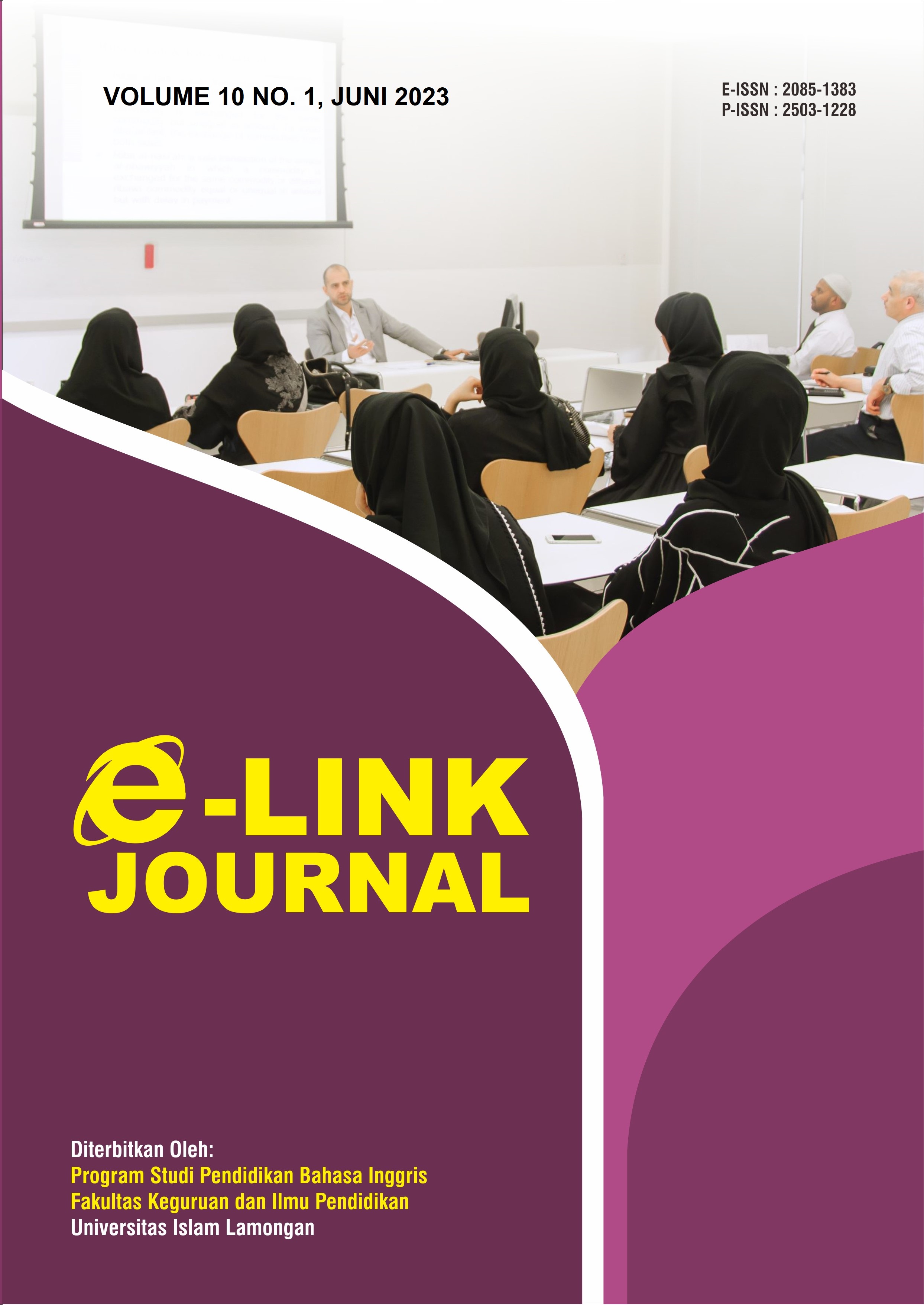 Downloads
How to Cite
Al Halim, M. L. (2023). STUDENT'S PERCEPTIONS OF THE USE OF GOOGLE MEET DURING THE LIMITED FACE-TO-FACE LEARNING PERIOD. E-LINK JOURNAL, 10(1), 33–43. https://doi.org/10.30736/ej.v10i1.594